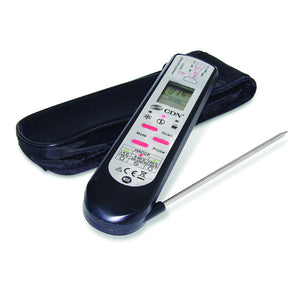 CDN ProAccurate Infrared/Thermocouple Probe Thermometer, INTP626X
CDN's ProAccurate® Infrared/Thermocouple Probe Thermometer combines non-contact infrared and thermocouple technologies in a single innovative tool to ensure the best culinary results and food safety.
In addition to quick scanning of surface temperatures, this versatile thermometer features Minimum, Maximum, and Lock modes for scanning multiple targets over time. Integrated HACCP check lights and icons instantly show if temperatures are within HACCP guidelines for safe food temperatures. Multi-faceted, it also offers white light target illumination, battery status indication and a flip down rapid response thermocouple probe for measuring internal temperatures.
Features 
NSF® Certified

Waterproof

Dual function with infrared for non-contact surface temperatures and thermocouple probe for internal temperatures

Maximum, Minimum and Lock modes for continuous scanning

White light target illumination

HACCP check lights & icons

Food-safe ABS plastic with BioCote®

Battery status indication
Specifications
Measurement Range:
Infrared: -67 to +482°F/-55 to +250°C;

Thermocouple: -67 to +626°F/-55 to +330°C
Distance:Spot:
Display Size:
0.716 W x 1.0 H (in)/ 1,82 W x 2,52 H (cm)
Power:
Weight:
Other:
4.5" (11.43 cm) probe

Shatterproof

Rapid response

Data-hold

One-button operation

304 stainless steel probe

Auto-off

1-Year Limited Warranty